Integrative Psychotherapy Workshop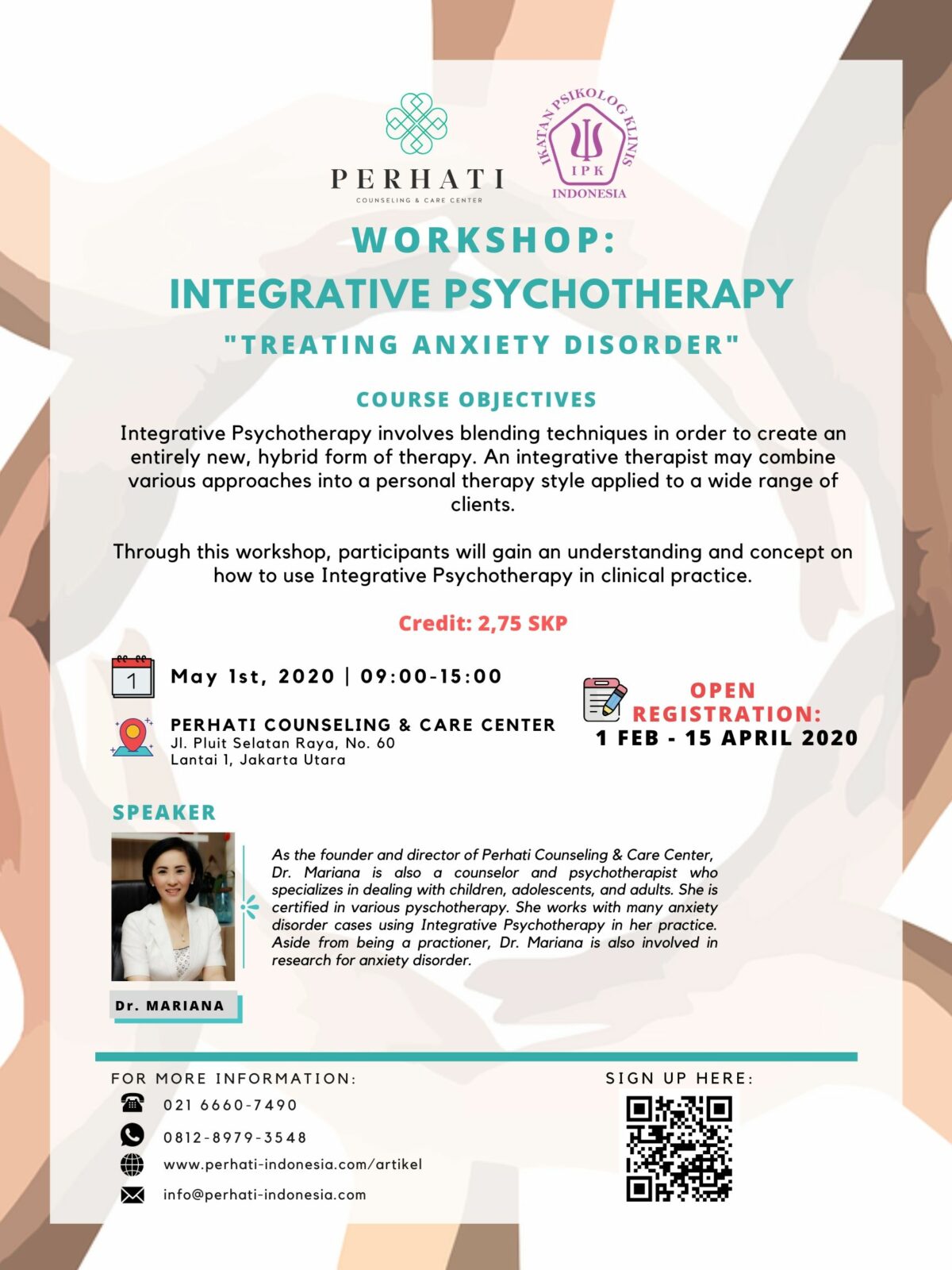 Integrative psychotherapy involves blending techniques in order to create an entirely new, hybrid form of therapy. An integrative therapists may combine various approaches into a personal therapy style applied to a wide range of clients.
※ As a result of this workshop, participants will be able to:
1. Obtain an understanding of integrative psychotherapy.
2. Apply integrative psychotherapy in clinical practices.
3. Apply integrative psychotherapy on anxiety disorder.
※ Who may participate?
Psychotherapists, counselors, psychologists, social workers, therapists, and teachers.
※ Speaker:
Dr. Mariana Foo, is the founder and director of Perhati Counseling & Care Center. She is also a counselor and psychotherapist who specializes in dealing with children, adolescents, and adults. She is certified with various psychotherapy and she works with many anxiety disorder cases using Integrative Psychotherapy in her practice. Aside from being a practioner, Dr. Mariana is also involved in research for anxiety disorder.
※ Open Registration:
01 FEB – 15 APR 2020
☞ SAVE THE DATE ☜
Date: Friday, 1 May 2020
Time: 09.00 – 15.00
Location: PERHATI Counseling & Care Center (Jl. Pluit Selatan Raya, No. 60, Lantai 1, Jakarta Utara)
Registration Form: https://forms.gle/bTFHirMoBihK2wGv6
⚠️⚠️ Limited Seats ⚠️⚠️
For more information, please contact:
Angeline: 0812-8979-3548
PERHATI: 021-6660-7490