Sandplay Therapy Consultation with Ellen Searle LeBel, LMFT, BC-DMT, CST-T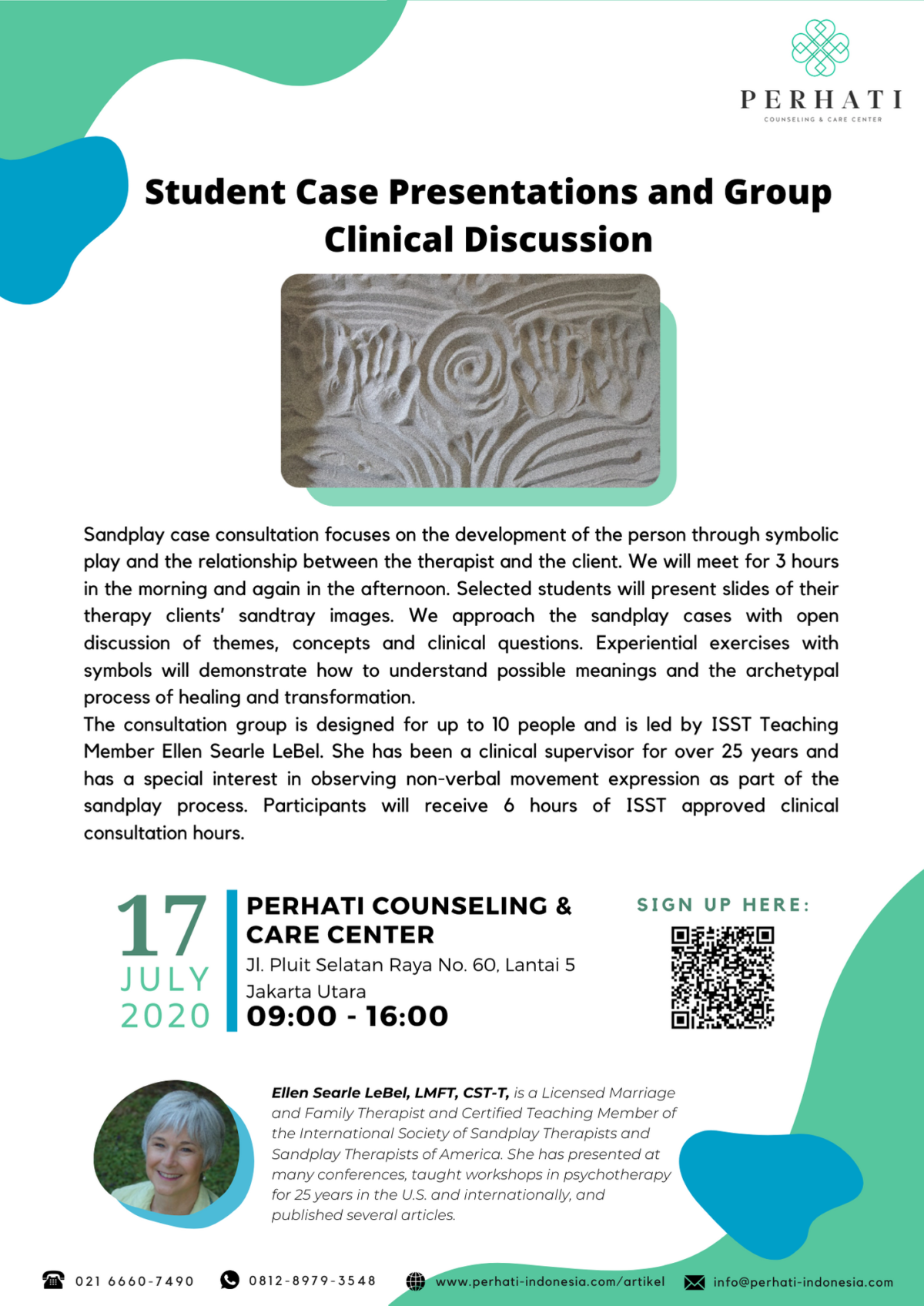 Pada bulan July yang akan datang, PERHATI Counseling & Care Center mengundang pembicara Ellen Searle Lebel untuk memberikan workshop dan group supervisi yang berhubungan dengan Sandplay Therapy. Workshop kali ini dibagi menjadi 3 jenis training dengan tema yang berbeda-beda, yaitu foundation training, advance training, dan group supervision.
Ellen Searle Lebel adalah seorang terapis keluarga dan pernikahan, dance/movement therapist dan teaching member Sandplay Therapists of America (STA) beserta International Society of Sandplay Therapy (ISST).
✱ Course Objectives Group Supervision 17 July 2020
Sandplay case consultation focuses on the development of the person through symbolic play and the relationship between the therapist and the client. We will meet for 3 hours in the morning and again in the afternoon. Selected students will present slides of their therapy clients' sandtray images. We approach the sandplay cases with open discussion of themes, concepts and clinical questions. Experiential exercises with symbols will demonstrate how to understand possible meanings and the archetypal process of healing and transformation. The consultation group is designed for up to 10 people.
✱ Course Objectives Foundation Training 18 July 2020
Healing and Wholeness in Sandplay Therapy: Practice and Process
• Describe how Jung's concept of Active Imagination relates to sandplay.
• Define "the free and protected space" in the therapy relationship.
• Discuss the relationship between sandplay and play therapy.
• Set up sandplay in a therapy room. Includes best practices of selecting figures, documentation, introducing to clients.
• Observe and understand psychological development a sand tray using case material.
✱ Course Objectives Advanced Training 19 July 2020
Finding Hidden Treasure: Psychological Transformation in Sandplay Therapy
• Explain why sandplay therapists do not interpret the meaning of trays to clients.
• Describe how a sandplay process can relate to Jung's concept of individuation
• Define the difference between a symbol and archetype
• Demonstrate how to photograph and notate a sandplay therapy session
• Name three common symbols for transformation to have in your collection
📍Event Timing & Location
Date: 17-19 July 2020
Time: 09.00 – 16.00
Location: PERHATI Counseling & Care Center (Jln. Pluit Selatan Raya, No. 60, Lantai 5, Jakarta Utara)
📌Open Registration
Early Bird 1: 01-31 Jan 2020
Ealry Bird 2: 01-28 Feb 2020
∴ Partisipan yang mendaftar setelah tanggal diatas akan dikenakan harga normal.
💰Perincian Harga
1. Group Supervision
Date & Time: Jumat, 17 July 2020 09.00-16.00
4 orang presenter (@1.5 jam) Max. partisipan : 15 orang. ISST = 6 Hours
Earlybird 1 : Rp. 2.700.000,-
Earlybird 2 : Rp. 2.900.000,-
Normal : Rp. 3.000.000,-
2. Foundation Training/workshop Sandplay Therapy
Date & Time: Sabtu, 18 July 2020 09.00-16.00
Max. partisipan: 30 orang. ISST & CPD = 6 Hours
Earlybird 1 : Rp. 2.600.000,-
Earlybird 2 : Rp. 2.800.000,-
Normal : Rp. 3.200.000,-
3. Advance Training/workshop Sandplay Therapy
Date & Time: Minggu, 19 July 2020 09.00-16.00
Max. partisipan: 30 orang. ISST & CPD = 6 Hours
Earlybird 1 : Rp. 2.700.000,-
Earlybird 2 : Rp. 2.900.000,-
Normal : Rp. 3.200.000,-
4. Paket Training 2 hari
Date & Time: Sabtu – Minggu, 18-19 July 2020
Earlybird (Jan-Feb 2020) : Rp.5.100.000,-
Normal : Rp. 6.400.000
5. Paket Training 2 hari dan Group Supervision
Date & Time: Jumat – Minggu, 17 – 19 July 2020
Earlybird (Jan-Feb 2020) : Rp. 7.900.000,-
Normal : Rp. 9.400.000
6. Paket Training 1 hari workshop dan Group Supervisi : 17 dan 18/19 July 2020.
Earlybird 1 (1-31 Jan-'2020) – Rp. 5.200.000,-
Earlybird 2 (1-28 Feb-2020) – Rp. 5.400.000,-
Normal – Rp. 6.200.000,-
📣Cara Pembayaran
BCA Transfer ke: 244 339 5555 a/n Yayasan Perhati
☎️Contact Person
Angeline 0812-8979-3548
Klinik Perhati 021-6660-7490